Sonntag, 04.02.2007
17.00 Uhr
"Bläserkonzert"
Ausführende: Bläserquintett der US Luftstreitkräfte in Europa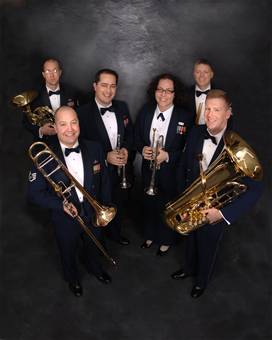 Das "Five Star Brass" ist das Bläserquintett des Orchesters der amerikanischen Luftstreitkräfte in Europa. Besetzt mir 2 Trompeten, Horn, Posaune und Tuba sowie Schlagwerk ist das Ensemble bekannt für seine Vielseitigkeit und herausragende Musikalität.
Ihr Programm umfasst 5 Jahrhunderte von prunkvollen antiphonalen Renaissancewerken bis zur reichen Vielfalt amerikanischer Musikstile.
Jedes Konzert ist sorgfältig geplant als Mischung aus Inspiration und Unterhaltung. Es gibt auch einen speziellen Programmbereich für jüngere Zuhörer.
Das Quintett tritt nicht nur konzertant in Konzertsälen und Veranstaltungen, sondern auch bei offiziellen Militärzeremonien und Staatsfeierlichkeiten auf.
English original version, taken from their homepage:
The Five Star Brass is the Brass Quintet of The United States Air Forces in Europe Band. With the traditional instrumentation of two trumpets, French horn, trombone and tuba plus percussion, the ensemble is known for their versatility and outstanding musicianship.
A component group of the USAFE Band, their performance repertoire spans five centuries, from the glorious antiphonal sounds the Renaissance to the rich diversity of American musical styles. Whether a military march, jazz standard, or an original arrangement of patriotic favorites each Five Star Brass program is thoughtfully planned for a blend of inspiration and entertainment. Their repertoire has universal appeal and includes special programming for younger audiences. This ensemble not only performs in concert halls and civic events but also adds a distinctive presence to official military ceremonies and events of state.
These six gifted players proudly represent the United States and the skill and professionalism of its Air Force as musical ambassadors before military and civilian audiences throughout Europe.
Homepage des Ensembles: http://www.usafe.af.mil/library/factsheets/factsheet.asp?id=4412
Weitere Informationen folgen.